How to load 35 mm film in Kodak DUAFLEX II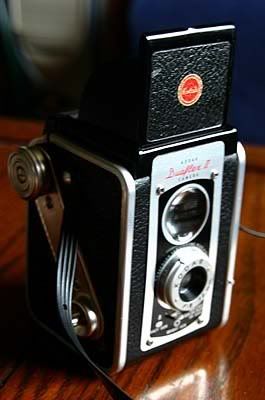 The Kodak Duaflex usually takes medium format film. 120 or 620 (i think they're the same). I got mine off ebay for a few bucks and I don't use 120 film, so I modified it to take 35mm film.
Things you need :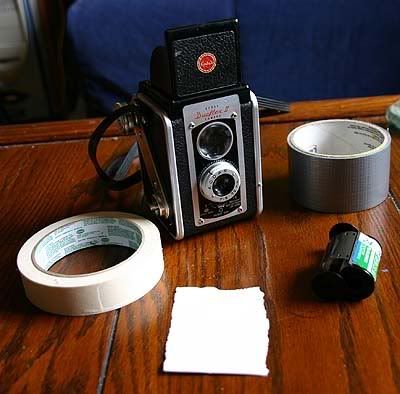 -tape
-Kodak Duaflex
-35mm film; slide, color or BW negatives, infrared, etc
-white paper
-silver tape

Step 1: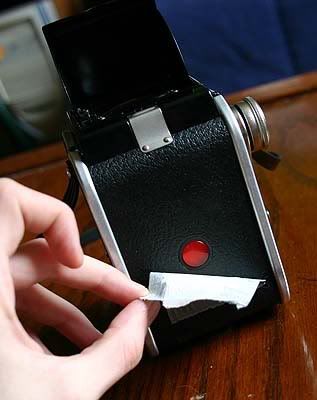 First, tape off the backing window with tape. If you end up with red dots over your film, that means you haven't used the right amount of tape. I ruined a few rolls like that and now I put a piece of cardboard on top of the red circle and then tape it up. Do the same on the inside of the camera.
Step 2: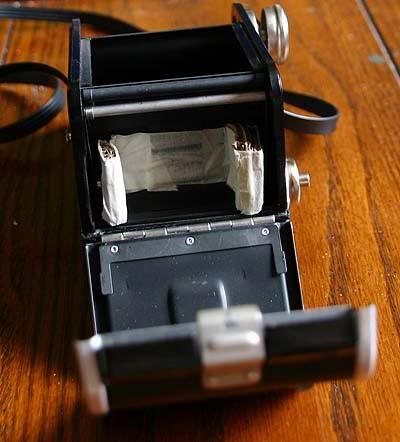 You need to make adjustments for the 35mm film to stay in place because the space for the 120 film spool is so much bigger. Therefore, you have to put some styrofoam or cardboard on each side of the film canister to keep it in place so that it doesn't move all over the place when you handle the camera.
Step 3:
Tape the film to the spool so that it doesn't move.
Step 4:
Put the film into place in the camera. Push the winding knob in so that the spool is locked in. At this point, you can put the carboard pieces in to hold the film canister in place, unless this hasn't been already been done in step 2.
Step 4: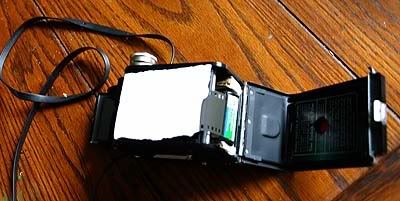 I found it necessary to put an additional piece of white paper on the film because in my camera for some reason i get this annoying light leak right in front of the fream, so this will keep the area clean. Be careful because if you use paper with print on it, the writing will be printed on your film as per the lightleaks.
Step 5: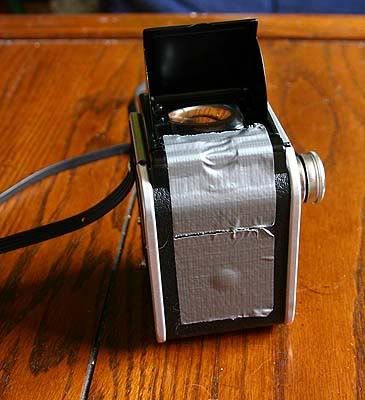 Close the camera and tape it shut. I do this because on many occasions the damn thing has opened up. The lock is probably worn off.
THE END
REMEMBER!!

It takes FIVE(5) whole turns for the film to advance properly to the next frame.