I keep going back and forth on this art career thing. Is it better to partner up or is it better to just follow my own stream of consciousness and just go where the wind takes me.
The guidance i get on my work is somewhat constant. I've been submitting work to a few shops and a few craft shows and the answer is pretty much "you create art pieces of work and we love it. I don't see anyone like you, we'd love to have your work in our shop". And then i have to reject the offer because the general artist boutique focuses on soaps, cards and handmade tshirts. I constantly feel like i don't belong in those shops. And then the shops that ARE more high class, proper made works, i feel like they're too main stream for my work to fit in.
It's a constant struggle....but let's not call it "struggle", let's call it "juggle" because i get to pick and choose what and where i want my work to go.
Few weeks ago, i was offered a GREAT little nook in a shop. That little nook, the dark green painted walls and the ambient light was everything my work represents. Mystery and whimsical and all that funky stuff. The rest of the shop however was everything below my expectations of where i want my work to be. Good stuff, but in comparison, not the right stuff to have sitting right beside my work.
Bottom line, you don't want to be the statement ring collection in a sea of cookies and friendship bracelets. I truly applaud and encourage everyone being artistic and following their need to create and be artistic, but yeah....i'm aiming for higher.
Actually i'm aiming for old Parisian women with beautiful collections of statement pieces that they treasure and pass on to their daughters...or gay sons....and pick a piece to wear every day while sitting in the afternoon spring sun eating macaroons on the edge of the Seine.
Bring those ladies to me :D
Lately i've also been told to narrow down my collection and just stick to one thing.
Why? WHY???
The true artistic mind wants to create, not limit itself to simplicity and duplication.
Funny fact: lately i've been focusing more on simple metals...brass, silver...simple pieces that can be duplicated and easily adjusted for the happy customer that wants more than one piece. And it just so happens that my shop has truly suffered in views and sales in this past month, with this new selection.
It pulls in way more views to my artistic pieces, than it does to my simple crystal pieces.
They're all beautiful and I appreciate the variety of viewers they each receive but truly, honestly, my heart goes more towards the individual one-of-a-kinds.
These pieces i'm showing you on the blog today are new pieces. New stiles and new supplies. The glass lampwork beads i made myself and you can also get your own in my
Ophelia's Garden
shop. I keep making lampwork headpins and then i end up using them because they're so beautiful.
The headpins haven't really started to sell but
LoveRoot
has purchased the sparkly gray/white/black ones i made and she made these beautiful earrings with them.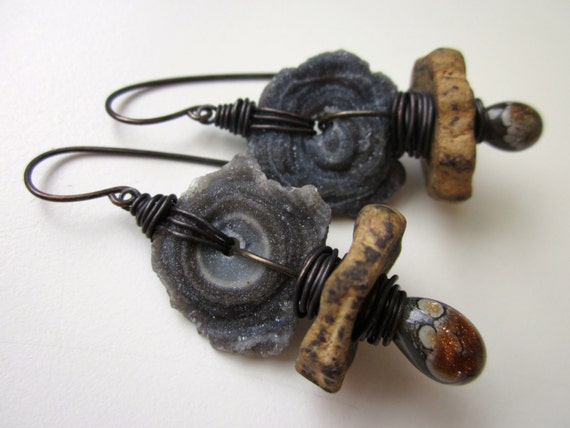 lookit!! they're so pretty!!!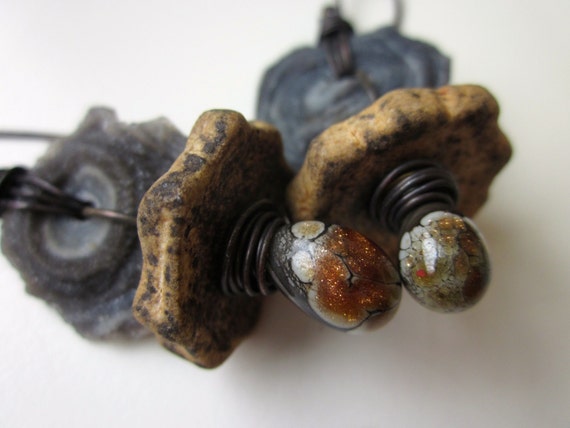 Those earrings will be snached up real fast. All her other pieces are equally lovely.
I love being part of other artist's creations..so lesson learned: if i make headpins, make more than two, cos i'd sure love to share the ones i've used in my earrings. Will make some more soon. Soon as in, when weather decides to stop being -25*C so i can get proper ventilation going.